Glad to hear that everyone else returned home from the United unscathed. Here's a brief account of our adventure home. After we left the Samoset, I stopped at
Eastern Tire and Auto Service
in Rockland and got my punctured tube replaced. (Many thanks to Tod Brown who suggested them to me.) The gentlemen at Eastern Tire were most helpful and very considerate of my rare and precious Sunbeam.
We had a great drive up to Bar Harbor and up Cadillac Mountain. The Alpine was true to its racing heritage and pulled up the hill with ease. We drew a lot of attention wherever we went.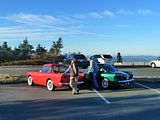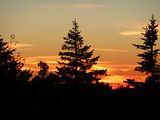 While we were stopped to photograph the scenery, other folks stopped just to photograph our cars. We left
Acadia National Park
and pushed on to Augusta that night where we stayed.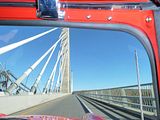 TT insisted in parking his machine outside the door between the uprights of the hotel entrance way. It was out of the way, and no other modern car would have fit in there anyway. It wasn't a REAL parking spot but it was a safe one, away from all the door-bangers. Well, the cops called a bit later and asked him to move it. No reason given, just because it wasn't a designated spot. No matter if tractor trailers took up +10 spots in the back, we just couldn't park creatively away from the door-banging commoners.
We arose the next morning and decided to go to Norwich, NY to see the
Northeastern Classic Car Museum
. It was a long way off from Augusta, so we tried to get as far as we could in one day and still take in the scenery. We took some of the interstate and finally pass from Mass. to New York on Route 2, which turned out to be a beautiful road. The scenery of the mountains was great and the little towns were interesting. We didn't see ANY moose, or bears, but we saw a few deer. We also passed through some towns which had signage which read "Thickly Settled". We pondered on what that really meant, were there a lot of people settled there (which we didn't see), or were the settlers thick?
We missed the
Bridge of Flowers
along the Mohawk Trail due to impending darkness, but pressed on past Albany. We ate at a quaint little '50's diner and then to stayed at a place about 45 minutes from Norwich.
The Northeastern Classic Car Museum turned out to be a great exhibit. They have 160-some cars there and the largest collection of Franklins known. There was a concentration on vehicles which were manufactured in New York state, but also a balanced representation of early motoring up into the 70's.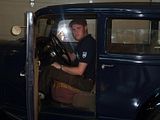 We started out after lunchtime toward Binghamton and eventually Hershey-area. The cars were running great, until after the last fuel stop. TT noticed a puff of smoke from the bottom of the Alpine. At one point it was enough non-exhaust smoke to engulf the rear of the car, which meant we had to pull over and investigate. Lifting the bonnet revealed a stream of precious Lucas-smoke billowing from the generator. At this point we were south of Scranton, so it only had to last a few more miles. Even though the smoke had gone, strange noises were coming from the generator as the bearing chewed itself up, and I dared not turn on any accessories. At any moment I was prepared to hear the belt snatch as the bearings locked up and smoked the fan belt. We continued on at a modest pace, delaying turning on the headlights until the last possible minute. We rounded the corner onto the Ehrhart's street, when out of the corner of my eye I thought I glimpsed an ominous red ember emerge from beneath the bonnet. It could have been a figment of my imagination, but it was confirmed when I saw a second one and finally the generator warning light came on full brightness. I killed the engine as we turned onto the driveway and coasted to the workshop. I leaped from the car and threw open the bonnet, ready to extinguish flames if required. No fire, but copious amounts of white Lucas smoke left the generator with that horrible acrid smell. Whew! What a relief we made it without being towed home in shame.